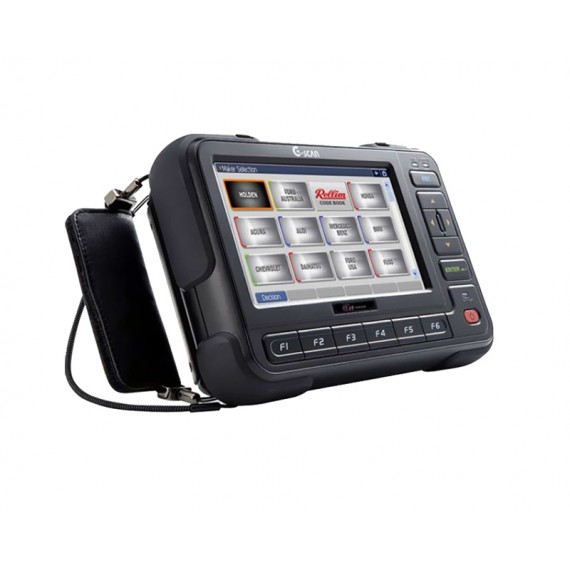 G-Scan supports powerful, yet easy to use built-in software. Features include: built-in Protocols (CAN, K-Line/L-Line, Commercial, Data/Control Line, PC Interface)...
The Number One best selling and supported after market scan tool in Oceania. Designed for the local car park, Cars, 4WD's, Trucks, Hybrid, LPG, EV Full electric models.
This is a Genuine OEM scan tool.
Important Note: Software Updates for the G scan 1 are now limited due to hardware limitations with software updates coming to an end late 2019. It is recommended to consider upgrading the hardware to one of the current models to gain maximum functionality. Please contact us more information.
The G-Scan AUS Kit includes: G-Scan base unit, 4GB SD Memory Card, Battery Pack, DLC Main Cable with OBD 2 Adapter, OBD 1 Adapter Kit, SD Card Reader, Stylus Pen, Stylus String, LCD Cleaner Pad, Cable-Cigarette lighter, Cable-Battery, G-Scan User's Manual, G-Scan software applications (CD), AC/DC Adaptor, AC Power Cable, Hand Carry Strap, Carry Case .
Vehicle Adaptors: Honda/Accura 3Pin, Mazda 17Pin, Mitsubishi 12Pin+16Pin, Nissan 14Pin, Subaru 9Pin, Toyota 17Pin(R), Toyota 17Pin+1Pin(square), Kia 20Pin-A Type Connector, Kia 20Pin-B Type Connector, Ssangyong 14Pin, Hyundai Keyless Connector-(x2),Mercedes Benz 38Pin multiplexer, BMW 20Pin, VW/Audi 2Pin (early style connector).
Advanced functions include: Automatic System Search (searches for all available ECUs), DTC Analysis, Data analysis, Flight Recording, Flight record review, Actauation tests, and special functions such as Service reset functions, steering angle sensor recalibration, Key programming, diesel injector coding, ECU linking and programming, Diesel Particulate Filter regeneration, AD-Blue, Diesel pump initialisation, Brake Bleeding, Automatic transmission solenoid cleaning, Air conditioning programming.
Systems covered include: Engine, Transmission, ABS, Airbag, Air conditioning, Traction Control, Stability Control, Instruments, Immobiliser, Tyre Pressure Monitoring, Audio Control plus much more...



Category

Specifications

Micro Controller

Dual CPU: Main control board (ARM9 @400MHz) - Communication Board (ARM9 @400MHz)

System Memory

NOR Flash 16MB, NAND Flash 64MB, SDRAM 32MBx2

External Memory

2GB SD Card (up to 4GB)

LCD

480x234 pixel - 5.6" TFT Analog LCD

Input Devices

Touch Screen, Power ON/OFF key, ENTER and ESC keys

Indication Lamps

2 Colour LED x 3 (Power, DLC, Option)

Sound

Single tone buzzer

Rechargeable Battery

Li-Ion Polymer 2100mAh 1cell

Operating Voltage

7 - 35V DC

Housing Material

PC + ABS resin with TPE shroud

Dimension

194x129x59mm

Weight

Approx. 900g
Connectivity
| | |
| --- | --- |
| External COM Port | 1xUSB master and 2 x USB slave (USB 1.1) |
AC/DC Power Adaptor
| | |
| --- | --- |
| Input Power | 100-240V AC |
| Frequency | 50/60Hz |
| Input Current | 0.8 A |
| Output Voltage | 12V DC |
| Output Current | 3 A |
Disclaimer:
All generic scan tools sold by Mount Auto Equip Services Pty Ltd are not guaranteed to work on every vehicle. You accept that the tool and software program is provided "with all faults, defects and errors" and that all scan tool sales use the program "as is" and at their own risk. All software has been extensively tested, but we cannot guarantee that every update will work correctly with every system in every car, truck or vehicle. Mount Auto Equip Services Pty Ltd will always commit to request the manufacturer fix any hardware or software issues and to enhance the program. We specifically disclaim any liability for damage to your car, truck or vehicle and we do not promise to have any particular enhancements or functions available on any specific date.
G Scan VW/Audi Electronic park brake service functions



G Scan programming Nissan Intelligent Key